Dental Clinic in West Mississauga, Clarkson & Oakville
905-822-1931
2425 Truscott Drive, Unit 17 (the Park Royal Plaza) in Mississauga, Clarkson, L5J 2B4
Meet Dr. Naveen Maini & Team at Royal Park Dentistry, Mississauga.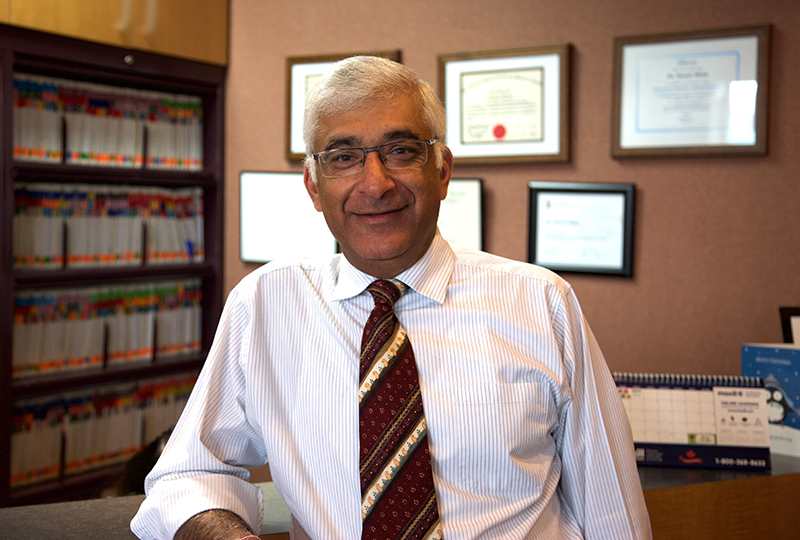 Dr. Naveen Maini graduated from the University of NewCastle-upon-Tyne in England in 1982 and came to Canada in 1985. He finished an internship at Hamilton General Hospital and after passing the board exams in 1986 started practicing in Milton, where he still owns a dental clinic.
He lives in Oakville with his wife and 3 sons. He loves to golf, read and travel and is a huge Raptors fan together with his wife and kids. He has been President of the Burlington Dental Academy twice and been a councillor at the Ontario Dental Association for 6 years. His wife and oldest son also work in Mississauga.
Dr. Maini is an experienced and skillful Mississauga dentist. He attends numerous continuing education courses to keep himself current and to practice dentistry at the highest level possible. He and his caring team look forward to seeing you and your family and friends for your dental healthcare needs.
New Patients, Emergency Always Welcome.
We provide an innovative tool to make communication with our office convenient and easy through SolutionReach. Download the free PatientReach mobile app to manage your appointments at the Apple Store or Google Play.
You will be redirected to the secure SolutionReach website to schedule the appoinment.
Loved it that they stayed with baby Ava when I was busy doing dental cleaning so I do appreciate that they care! They didn't mind I had to bring the baby!
General dentistry includes a broad array of treatments used to diagnose, treat, and prevent diseases or conditions that affect the...