Dental Clinic in West Mississauga, Clarkson & Oakville
905-822-1931
2425 Truscott Drive, Unit 17 (the Park Royal Plaza) in Mississauga, Clarkson, L5J 2B4
At Park Royal Dentistry we would like to share important information about a growing public health issue that can affect you and your loved ones.
In Canada, oral cancer is the 13th most common cancer; ranking 6th worldwide. Early diagnosis of oral cancer through screening and early detection is critical. The main reason for these grim statistics, is not because oral cancer is hard to diagnose, but because it is diagnosed too late – when it is in its advanced stages.
That's why Dr. Maini recently invested in a new, advanced screening device that will enable him and his team to perform a detailed oral exam with far more accuracy than he ever could in the past. The device, which is called Identafi®, is about the size of a power tooth brush, and uses three different wavelengths of light to help detect any suspicious areas in the mouth that would be impossible for us to see with our naked eyes. These suspicious areas, upon further evaluation, are usually benign, but you'll agree that it's always better to be safe than sorry.
During your screening exam, we will offer you the option of a thorough Identafi® examination and will gladly answer any questions.
Oral Cancer Screening With Identafi® Device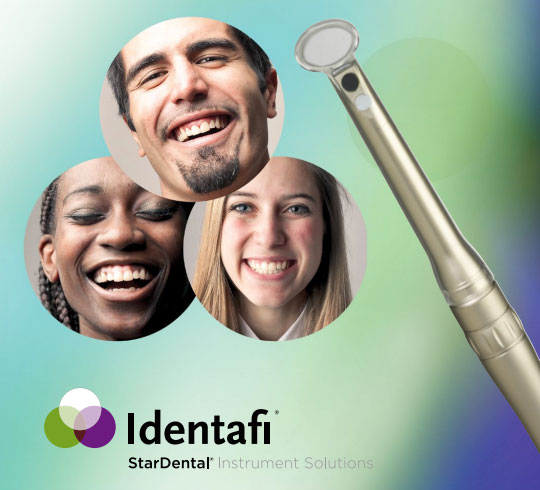 Oral cancer screening is a short oral exam performed by a dentist or hygienist. Dentist looks for precancerous lesions that may lead to mouth cancer in your mouth. Oral cancer can be identified early during this screening test, when there is a greater chance for cure.
Factors that can increase the risk of oral cancer include:
– Tobacco use of any kind, including cigarettes, cigars, pipes, chewing tobacco and snuff, among others
– Heavy alcohol use
– Previous oral cancer diagnosis
– History of significant sun exposure, which increases the risk of lip cancer
Ask Dr. Maini about the Identafi® oral screening system or request a screening appointment at Park Royal Dentistry clinic.