Dental Clinic in West Mississauga, Clarkson & Oakville
905-822-1931
2425 Truscott Drive, Unit 17 (the Park Royal Plaza) in Mississauga, Clarkson, L5J 2B4
Periodontal (hygiene services)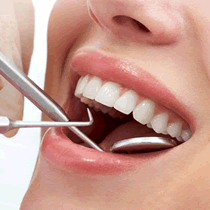 A periodontal examination is essential to assess the health of your gums and teeth. It can help diagnose the gum diseases gingivitis and periodontitis. It also can reveal receding gums, exposed roots, tooth grinding (bruxism) and other problems. The exam and probing include taking measurements of the spaces between your teeth and gums. If your dentist or hygienist has concerns about your gum health, you may be referred to a periodontist, a gum-disease specialist.
Periodontal (hygiene services) include:
– Dental and Periodontal Examination
– Oral Cancer Screening 
– Professional Teeth Cleaning
– Stain Removal
– Pediatric Dental Hygiene Care
– Fluoride Treatment
Regular dental cleanings and exams can prevent cavities, gingivitis, and periodontal disease. Though most people clean their teeth every day, it is recommended having teeth professionally cleaned every six months.
Dental plaque is hard to see, it is made up of invisible masses of harmful germs that stick to the teeth.
It is important to examine your teeth at regular checkups to make sure your teeth don't have tartar buildup (calculus). Tartar that is not removed from around the gum line can cause gum inflammation and irritation to the gums around your teeth.
At Park Royal Dentistry, we can help you prevent dental health problems. A full mouth assessment is performed during all cleanings to check for possible early decay, oral cancer, and other diseases of the oral cavity. Call us for more information about periodontal therapy.