Dental Clinic in West Mississauga, Clarkson & Oakville
905-822-1931
2425 Truscott Drive, Unit 17 (the Park Royal Plaza) in Mississauga, Clarkson, L5J 2B4
Cosmetic Dentistry (Including Veneers & Bonding)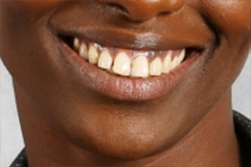 Cosmetic dentistry focuses on improving the appearance of a person's teeth and smile. Cosmetic dentistry offers various options for people who are unhappy with their smile. If you are one of these people, we encourage you to call Dr. Maini and book a consultation at Park Royal Dentistry. As cosmetic dentistry includes many treatments such as teeth whitening, bonding, white fillings, veneers, dental bridges, and dental implants, only your dentist can perform a thorough examination and answer all the questions.
Bonding
Bonding is a composite resin material that can be placed on your teeth. Composites are the materials that we use in white fillings and for restoring decayed teeth, making cosmetic improvements and even changing the colour and reshaping of teeth. It can be used to lighten any stains you may have, close up minor teeth gaps and correct awkward looking crooked teeth. It can cover any natural flaws by first applying a thin coating on the front surface of your teeth to which the bonding material is applied. It can be sculpted, coloured and shaped to provide the look and feel that you desire which is always pleasing result.
Veneers
Veneers can be done either by filling material or by porcelain. Porcelain veneers give a very lifelike pleasing appearance to your teeth. Feel free to ask us if veneers can be used to improve your beautiful smile!