Dental Clinic in West Mississauga, Clarkson & Oakville
905-822-1931
2425 Truscott Drive, Unit 17 (the Park Royal Plaza) in Mississauga, Clarkson, L5J 2B4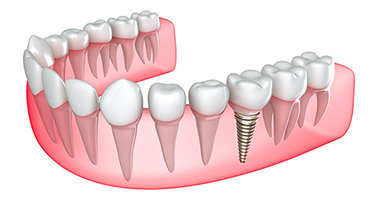 Dental implants replace the missing teeth without involving other teeth as in the case of a fixed bridge. Having a gap where a tooth is missing can be embarrassing, but with today's dental technology, this is an easy fix. Implants are a good solution to tooth loss, because they look and feel like natural teeth.
Dental Implants Replace Missing Teeth
Dental implants provide an easy way to replace teeth missing due to:
– Tooth Decay
– Root Canal Failure
– Trauma to the Mouth
– Excessive Wear and Tear
– Gum Disease
The process is simple and provides a lasting alternative to dentures or bridgework. We insert a metal rod where the missing tooth or teeth are to act as a root for the implant. We then create an artificial tooth to properly fill the space. Once set in place, the artificial tooth matching your surrounding teeth is fused with the jawbone as the site heals; thus completing the process.
By receiving dental implants, your gum line and jawbone cannot lose their shape due to lack of support from a missing/damaged tooth. Implants are ideal for those who have sufficient bone mass to support implants and are more beneficial than dentures because they are a permanent tooth replacement option.
What Are Dental Implants Made Of?
Implant material is made from different types of metallic and bone-like ceramic materials that are compatible with body tissues. Most implants are made of titanium, which bonds well with bone and is biocompatible, making it an ideal material for implants. This unique material is ideal for manufacturing artificial tooth roots, since it is not seen as something alien to the human body. These unique properties of titanium have solved the dental implant rejection problem and made the implantation a reliable and durable procedure. However, in very rare cases, when the patient has an allergy to titanium implant, it can be made of zirconium oxide, or other materials.
How are Dental Implants Placed?
First, our dentist will perform surgery to place the implant's anchor in the jaw. The surgery can last several hours, and it may take as long as six months for the jaw bone to grow around the anchor to hold it firmly in place. Once the implant is stable and the gums have healed, the dentist makes the artificial teeth and fits them to the post portion of the anchor. The dentist will work with you to create an implant that fits well and is comfortable and attractive.
How do I Care for Dental Implants?
Poor oral hygiene is a main reason why some implants fail. It is important to floss and brush around implants at least twice a day. Our dentist will give you specific instructions on how to care for your new implants. Additional dental cleanings (up to four times per year) may be necessary to ensure that you retain healthy gums.
Dental Implant Recovery Time
Healing after placement of dental implants is an individual process. In general, dental implants heal from three months at the bottom jaw and up to six months – at the top. The top arch of the mouth is usually a little slower than the bottom because the bone type is different.