Dental Clinic in West Mississauga, Clarkson & Oakville
905-822-1931
2425 Truscott Drive, Unit 17 (the Park Royal Plaza) in Mississauga, Clarkson, L5J 2B4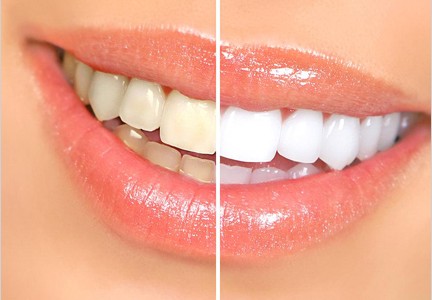 Teeth whitening in our Mississauga dental office is provided by Registered Dental Hygienists. Teeth whitening lightens teeth enamel and removes stains and discolouration. Whitening is the most popular cosmetic dental procedure because it can greatly improve your smile. Whitening has to be repeated from time to time if you want to maintain the brighter white colour. Whitening can be done in our Mississauga dental office or at home.
The most common reasons for teeth to get yellow or stained are:
– Using tobacco
– Drinking dark-colored liquids such as coffee, cola, tea and red wine
– Eating certain foods
– Not taking good care of your teeth
– Aging makes teeth less bright as the enamel gets thinner and the dentin becomes darker.
Whitening does not work on ceramic or porcelain crowns or veneers or any other filling material.
In-office teeth whitening usually takes 30 to 80 minutes. Come and talk to us to find out what results may be expected for your teeth.