Dental Clinic in West Mississauga, Clarkson & Oakville
905-822-1931
2425 Truscott Drive, Unit 17 (the Park Royal Plaza) in Mississauga, Clarkson, L5J 2B4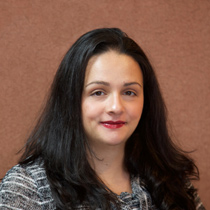 Denise Geeter (Mendonca), RDH
Registered Dental Hygienist and Dental Receptionist
Denise graduated from George Brown College in 2003 with a certificate in Dental Office Administration. After working full time for 3 years, she decided she wanted to expand her dental skills and career and obtained a diploma in Dental Hygiene from Oxford College in Scarborough in 2008. Since then, she has been working as a part time Registered Dental Hygienist and full time Dental Receptionist in our office. She is a member in good standing with the College of Dental Hygienists of Ontario, the Canadian Dental Hygiene Association and attends regular continuing education courses to maintain and keep up to date with her dental hygiene practice. She lives in Toronto with her husband.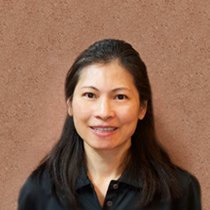 Linda Eng, RRDH
Registered Restorative Dental Hygienist
Linda graduated from the University of Alberta with a Bachelor of Science in 1989. She obtained a Diploma in Dental Assisting from George Brown College in 1990 and furthered her studies in the dental field by obtaining a diploma in Dental Hygiene from George Brown College in 1992. Linda has been authorized by the CDHO for Self Initiation and has obtained a certificate in Restorative Hygiene in 2005. She in a member in good standing with the College of Dental Hygienists of Ontario, a member of the Ontario Dental Hygienists Association and the Restorative Dental Hygiene Study Club. She currently lives with her family in Oakville.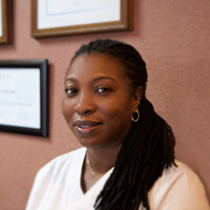 Jennifer Leslie, CDA II
Level 2 Certified Dental Assistant
Jennifer was born in Jamaica. She Majored in Agricultural Science from Elim Agricultural School, then went on to St. Joseph's Teacher's College where she became a teacher and taught Primary Education for 5 years. She then migrated to Canada in 1997 and became a Certified Dental Assistant when she graduated from Toronto School of Business in 1998. In 2004, Jennifer furthered her studies in dentistry and became a Certified Level II Dental Assistant. She has been a crucial part of our team since 2002 and prides herself in educating and communicating with our patients to provide them with a stress free and informed environment. Jennifer currently lives in Brampton with her family.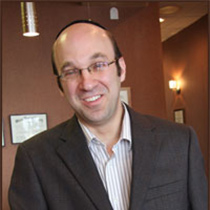 Dr. David Fortinsky, DDS
Associate Dentist
Dr. Fortinsky graduated from Case Western Reserve University in Cleveland Ohio in 1996. Since then, he has been a practicing dentist and has made it his goal to continue his education and knowledge in cosmetic dentistry. Dr. Fortinsky is a member in good standing with the Royal College of Dental Surgeons of Ontario and the Toronto Crown and Bridge Study Club as well as other organizations aimed at furthering the level and range of services available to Park Royal Dentistry's patients. (The "DDS" abbreviation shows the dentist's degree – Doctor of Dental Surgery. Dentists who have a "DDS" or "BDS" have the same education.)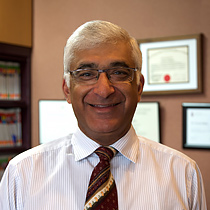 Dr. Naveen Maini, BDS
Bachelor of Dental Surgery / Owner
Dr. Naveen Maini graduated from the University of NewCastle-upon-Tyne in England in 1982 and came to Canada in 1985. He finished an internship at Hamilton General Hospital and after passing the board exams in 1986 started practicing in Milton where he still owns a practice. He has been President of the Burlington Dental Academy twice and been a councillor at the Ontario Dental Association for 6 years. Dr. Maini also attends numerous continuing education courses to keep himself current and to practice dentistry at the highest level possible.